Better work life - a Better life
Nordic Rack is an innovative combination of an office desk and a power rack.
Nordic Rack can increase daytime activity and improve stationary ergonomics.
Using the adjustable desk, you can change a remote work station to a power rack and back in a matter of seconds. Doing a quick mid-day workout in between work sessions has never been easier.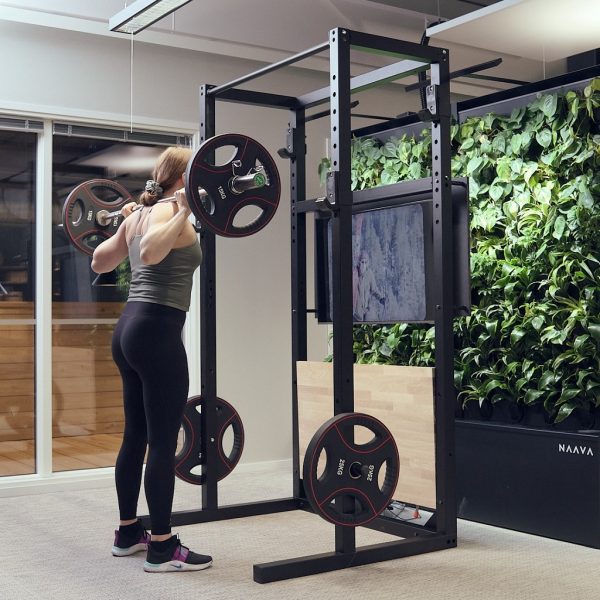 Workstation and Ergonomics
Good ergonomics is a must have in office and remote work. This was one of the driving factors when designing the NRO Rack. The wide range of adjustments found in the NRO Rack ensure that you'll be able to adjust the working position – whether it's standing or sitting – according to your height and preference. There's a phrase that's worth repeating when it comes to working positions: "The next position is the best position". What this means is that changing the position during the day, or even multiple times a hour is beneficial from a health and mental clarity standpoint, and thus highly encouraged.
This is embodied in the NRO Rack with its ingenious, but still simple design which makes desk height adjustments and the change from one mode to another easy and practical.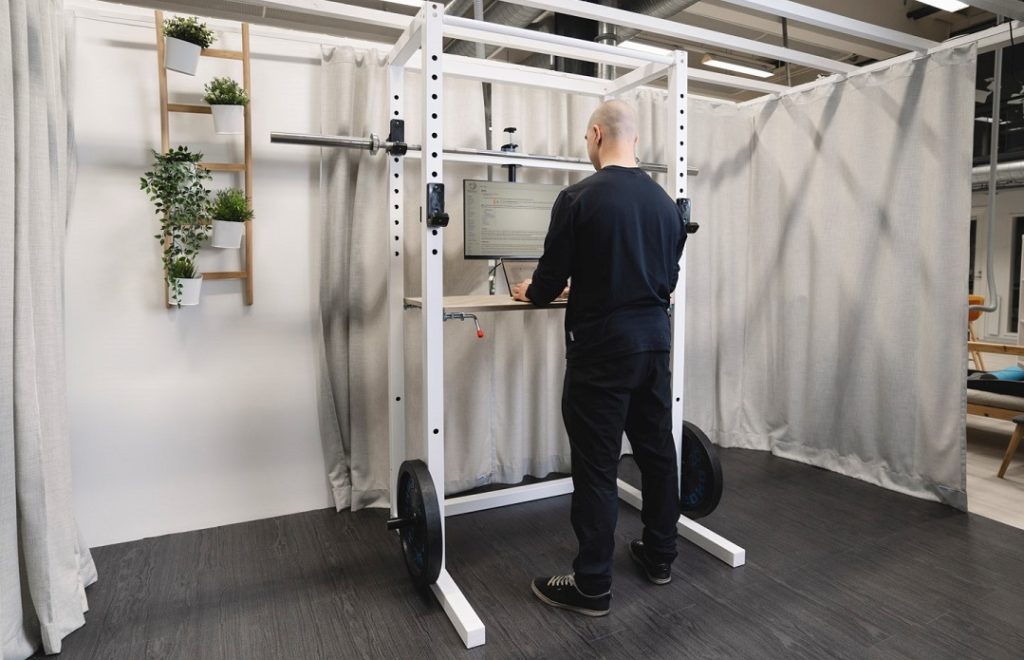 For fully-fledged workouts or breaks in between work
In addition to a versatile workstation, we wanted Nordic Rack to be suitable for exercise during work breaks. For instance, hanging on the chin-up bar keeps you warmed up, not to mention keeping the shoulder joint area and upper back moving and supple. After a day of sitting at work, the situation is typically the opposite, as back posture resembles a question mark when viewed from the side.
Being able to hang on the bar even for short periods of the day makes a difference in the long run. There are various large scale and long term benefits, try it out for yourself.
Designed and produced in Finland – responsibly
By utilizing Finnish professional know-how and a short supply chain, we can ensure the excellent quality, fast delivery time and a large stock of all NRO-products. The desk is carefully crafted from Finnish wood. As the Nordic Rack combines two different utilities, only producing one product (instead of two seperate products) helps mitigate increasing carbon footprint.
Order yours now and get to enjoy the benefits of the Nordic Rack – in working as training – already by the next week of ordering!